Welcome to the WebLeads An emerging entrants in digital marketing but the disruptive player. In this detailed write-up, we will understand how can social media marketing increase traffic and generate leads? 
To understand this, we will take the example of leading social media channels one by one and will explain their use, the variety of audience there, strategy to build your brand there, promotion and last but not the least the way to convert them.
Are you ready to explore how can social media marketing increase traffic and generate leads? 
Without further ado Let's start then.
Why Social Media Marketing?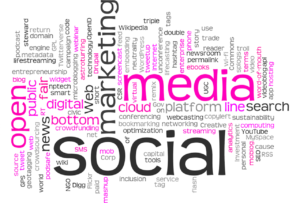 There are two major reasons for you to think about leveraging social media marketing. 
The first one, long gone those days when small and big organisations used to put more than 90% of their overall budget in offline marketing. The term offline marketing means hoarding, pamphlet, newspaper Ads, banner posting on crowded places, etc.
Now the whole scenario has turned 360 degrees. With the disruptive use of the internet, technology and social media, marketing and branding has turned upside down. Now, most of the enterprise infuse more than 85-90% budget in online branding.
The second one, in the case of offline marketing you can't analyse the output of your investment. But in online marketing, you can monitor and analyse all the data
Also, most of the people are available online today. From a kid to teen, adult to senior citizen everyone is online. Their timings and channel of social media may differ but it's pretty much sure that they visit any of the social media at least once in a day.
So, to find out who is your potential customer and which channel they use and at what time they generally available online you have to be aware of each and everything of social media. Only then you will understand how can social media increase and generate leads?
Facebook
Everyone is aware of facebook (FB) irrespective of any regional or age-based differentiation. Out of 7 Billion population of the world, 1.6 billion is available on FB. That's the reason why you should consider it seriously for the marketing of your products and services.
Most of the user's on facebook are in the age group of 18-45yrs. So if you are dealing into something which is extremely beneficial for this particular age set then Facebook can do the miracles for you.
On FB you can engage your target audience via text posts, blogs, images, GIFs, videos, apart from this informal way is mems also that is actually witnessing the more engaging rate nowadays. 
All you have to do is generate the engaging content in the above-stated ways that will encourage more and more traffic to your website and if you have targeted them properly they will more likely get converted. 
FB also plays a vital role in Ads (the second after GoogleAds in terms of user base) there are various tools that can track the visitors who visited your page and then attracts them in form of FB Ads. Since the past 4-5 years, Online Ads has seen exponential demand and growth as it can deliver instant result and you can keep track of everything.
Google
Literally the synonyms of the internet for most of even today. If you ask anyone the one-word explanation of what is the internet? Probably 70% of people will say Google. The reason is actually simple google has promoted itself in such a way that without actual visible promotion it has become the primary source of information gathering that too with free of cost.
Do you know where google generates its revenue? Most of you certainly are not aware of it. 
Google has 2 billion+ plus active customer as of now so that's more than any of the social media channels. And google use this database to find the interest of the visitor and accordingly shows them the Ads they might be interested in.
Must Read: 
1. 10 Reasons Why Marketing Through Social Media Is A Must
2. 9 Social Media KPIs You Should Track and Monitor
LinkedIn
Today LinkedIn has 575+ active members. It is the professional network popular across the globe for promoting corporate level relationship, job-referrals, professional communications, etc. In case you are dealing with a product and service that is for professionals and want to know how can social media marketing increase traffic and generate leads? 
LinkedIn is the solution for you. The speciality of this sector is you will find only genuine and seriously interested people here. 
Instagram
Started as an independent channel but when gained the momentum, Facebook has acquired it. Instagram (Insta) has 1+ billion active monthly users. Most of the crowd here is below than the age of 45yr and a large set of users is teenagers and the influencers of various sectors.
It is the right channel if you are looking for how can social media marketing increase traffic and generate leads?
Branding and promotion of apparels, electronic gadgets and accessories are quite popular on this channel.   
Twitter
Twitter is the network of daily trends, up to date news and trending gossips worldwide. With the 130+ million daily active users twitter can help you if you are dealing into IT, Services sector and Banking, Government policy-making, et cetera.
WebLeads has covered the topic of How can social media marketing increase traffic and generate leads? We explained the major market leaders, required strategy, their key strength along with the approach you have to follow while using hem.
But there are few more left to mention here and we will elaborate on that in our upcoming blog. Are you interested in exploring more? Find the link below fo the same.