More than 2 million people use SEO chrome apps today because of the numerous features it offers. Chrome also gives you a range of extensions to be used for On-page and Off-page SEO. These SEO chrome apps can be useful to ease your productivity. Let us have a look at a few of them.
10 SEO Chrome Apps One Must Use
1. SEO & Website Analysis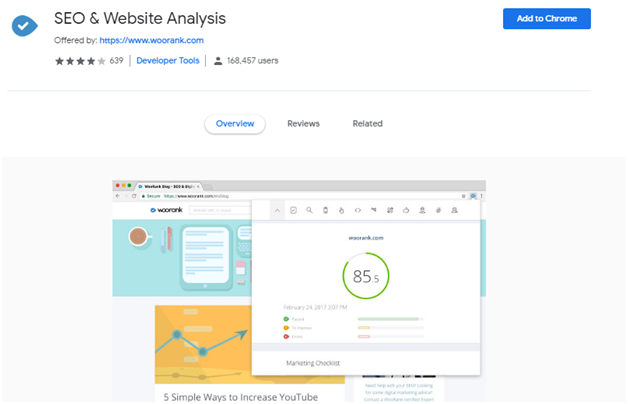 This SEO chrome apps provides a deep SEO analysis and also gives SEO tips for websites. Digital professionals, internet marketers, web & mobile developers will find this app very useful. After clicking on this WooRank extension, a pop-up is opened which reports on many SEO factors.
2. SEO Optimization Tools
This is a modern and simple SEO tool which gives you SEO Serp analysis with which you can view following things –
Social Stats from all major social networks.

SEO Stats including the backlinks and indexed pages.

General statistics such as the age, Alexa Rank and Google Page Rank of your website.

WHOIS information with a click.
You can social media statistics as like, shares, comments, pin, etc & then also see how much traffic that leads to your website.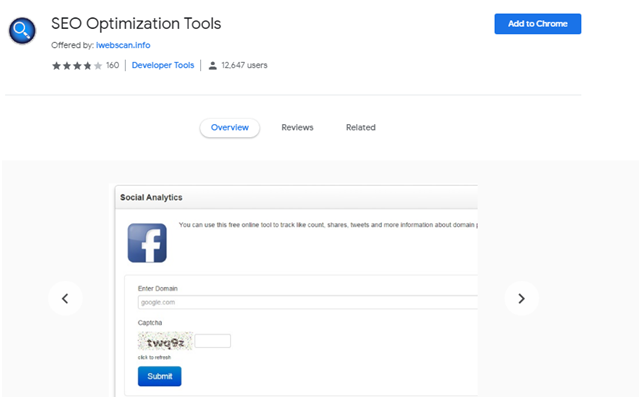 3. WebRank SEO
You can do Alexa, Quantcast & Compete Rank, Social Stats, Whois Lookup, Pages Indexed and Backlinks checking in Google & Bing. This tool can help you in competitive analysis & website analysis & you can see domain whois information. In website analysis, you can check your website growth in comparison with your competitors.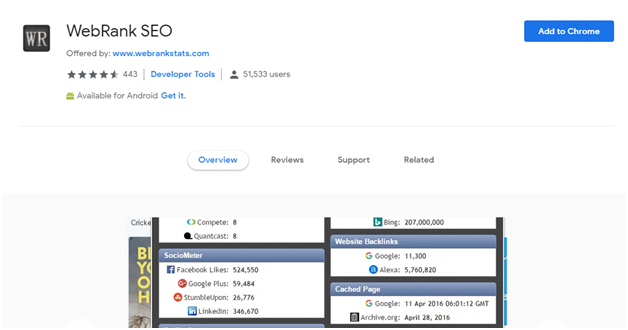 WebRank provides the following information:
Alexa Rank

Compete Rank

Quantcast Rank

Traffic Graphs

Pages indexed in Google

Pages indexed in Bing

Backlinks according to Google

Backlinks according to Alexa

Whois Information

SocioMeter(based on current URL)

"Compare Stats" button to compare a website with other websites.

"Diff Stats" button to check the progress of your website.

Geo IP Location of the Website.

Website Security check.
4. Open SEO Stats(Formerly: PageRank Status)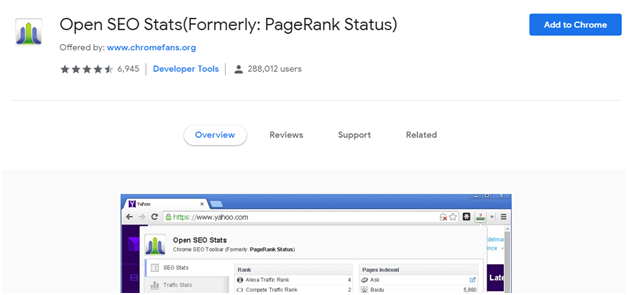 This SEO chrome apps helps us in knowing SEO of current web page, Whois, Alexa, backlinks, indexed pages, quick access to Geo IP Location, and much more. This extension supports over 30 languages and gives the following details –
You can know the traffic stats and graphs from Alexa Traffic Rank, Compete RanK, and Quantcast Rank

It shows the cached versions from Archive.org, Google

It shows the number of pages indexed in search engines like Ask, Baidu, Bing, Goo, Google, Sogou, Soso Yahoo, Yandex, 360

It shows the backlinks number in search engines like Alexa, Google, Open Site Explorer, Sogou

It detects the no follow links and display all internal and external links of the current page.

You can know WHOIS lookup, DNS lookup domain details.

It also shows geographical information such as the IP address, city, and country.

Know your site security information by McAfee SiteAdvisor, Norton Safe Web, WOT

Also, it is possible to know the site building information, such as BuiltWith, robots.txt, sitemap.xml

You can know social media stats like Delicious, Facebook likes, Google Plus likes, StumbleUpon, Twitter tweets

It shows the SEO related meta elements and other tags, such as URL, title, meta keywords, meta description, meta robots, canonical tag, internal links, external links, h1, h2, bold/strong, italic, image alt text, and body text

You can also know the page load time of the current web page.

You also get links to webmaster resources such as Google webmaster tools, Google trends, Google keyword tools, Bing webmaster tools, Baidu webmaster tools, open site explorer, W3C link checker, and screen resolution statistic.
5. Site SEO Analysis
This extension helps you to easily analyze website's SEO & provides a review that includes several factors like site's architecture, content, linking structure, social media efforts, and its trust on the internet. This provides score and recommendations that you should have a look at.
In this overall score is broken down element viz and a color code is used to indicate how well that element is optimized. You can optimize any web page and rank higher in SERPs.
Must Read:
1. 7 Critical Google Search Ranking Factors
2. Best Heatmap Tools to Track Your Website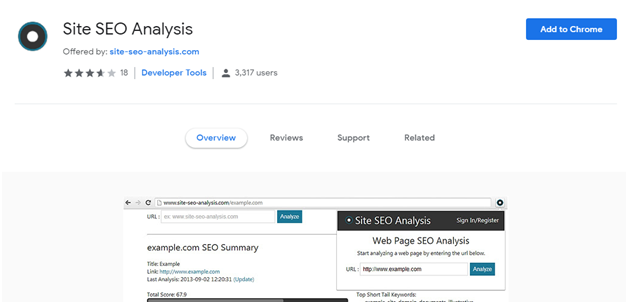 6. Link Research SEO Toolbar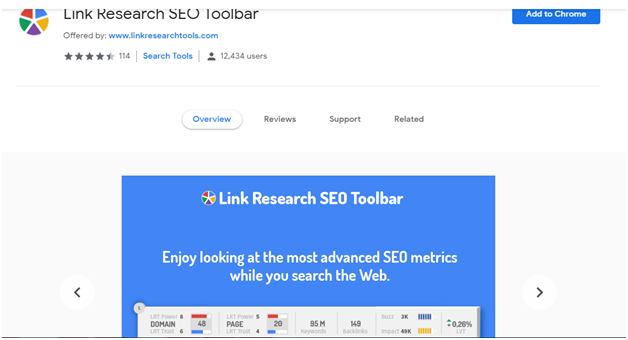 Link Research SEO allows you to check following SEO details –
Power or trust of your domain

Find the places which can give you backlinks

Social media success

Know how user engagement is going on

See your popular pages by keyword ranking

Spot changes in the number of links

See how many backlinks a page has & also see link velocity metrics
7. Ahrefs SEO Toolbar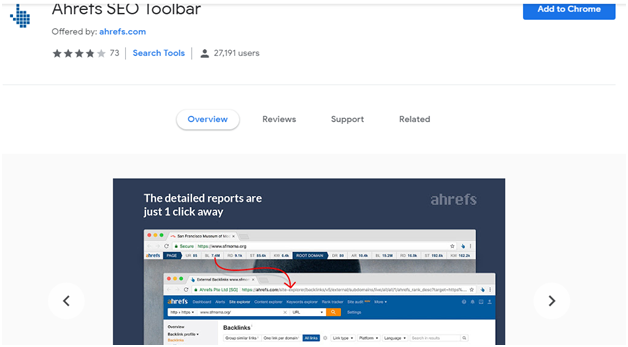 You can see all the SEO metrics in your browser but you need an active account in Ahrefs for this. You can instantly access below metrics –
Domain Rating

URL Rating

Estimated Organic Search Traffic

Number of ranking keywords

Number of referring domains

Number of backlinks
Beside this, you can check search volume, keyword difficulty, clicks, cost per click (CPC).
8. Checkbot: SEO, Web Speed & Security Tester
With this SEO chrome apps extension, you can check for the broken links, HTML/CSS/errors, redirect chains, duplicate content. It is possible to check 250+ URLs per site but to check 10000 URLs per site, check localhost, CSV export, and change crawl settings we need paid version. This checks for best practices based on recommendations by web experts such as Google, Mozilla, W3C & OWASP. This extension will make sure that you follow all these best practices. Please view their page to know all the best practices they mention.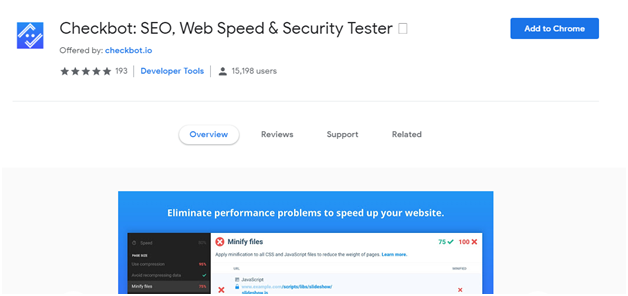 9. SEO Review Tools for Chrome!
To analyze any URL you can use SEO review tools. You can access many SEO tools as listed below using this extension.
SEO Authority tools
Bulk Ahrefs Domain Rating checker – (NEW)

Broken Backlink checker

SEO Competitor Research

Full SEO Scan

Backlink Checker

Link Building Tool

Bulk Google Rank Checker

Website Authority Checker

Domain Authority & Page Authority Checker
SEO Content Tools
Featured Snippet Tool – (NEW)

Free Keyword Search Volume Checker

Keyword Density Checker

SEO Content Editor

SEO Keyword Suggestion Tool

Duplicate content checker

Bulk Web page Word Count checker

Bulk Title tag checker

Bulk meta description checker

HTML Headings Checker
Technical SEO Tools
Google PageSpeed checker

AMP Checker / Testing tool

Internal Link Analyzer

SEO Redirect checker

Canonical URL / Location Checker
For more tools please visit the link we have mentioned.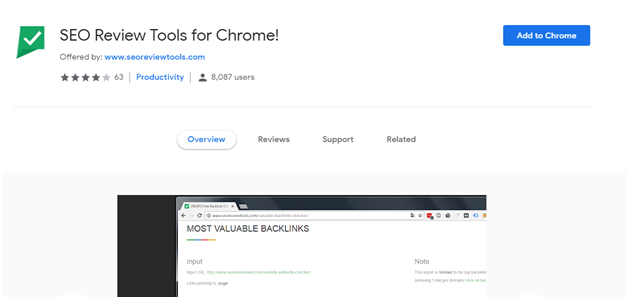 10. Website SEO Checker
This is the best SEO checker which will give you a report on 100+ SEO parameters. Sitechecker.pro is SEO checker for websites which allows you check following things –
You use On-Page SEO Checker to live-check any URL. You can use the Website Audit Tool check the whole website in one window by using their crawler. To control subordinates & executives & monitor changes in your website you can use a website monitoring tool.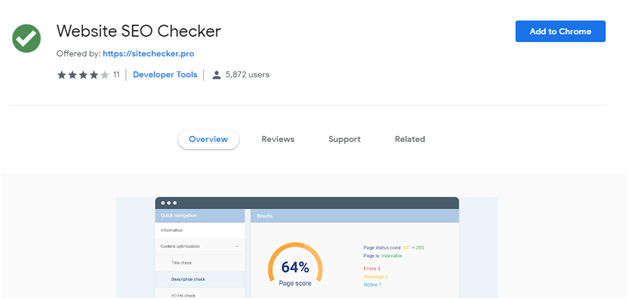 Thank you for reading our article. We are more than happy to share more insights with you. Why not get in touch with us.