Content is the King!
You might have heard this line before, but ever noticed why? This line is absolutely true and applicable globally.
No matter who you are an individual or an organisation, dealing into product or service, having your blog or website, anyone whosoever is using internet needs the precise content. Like the soul for the body, online content marketing is the primary factor that attracts more engagement and finally drive more sales.
Now we will elaborate on the variety of online content marketing that you can use and optimize as per the needs and requirements of your customers. Here are the types of content that you should focus on.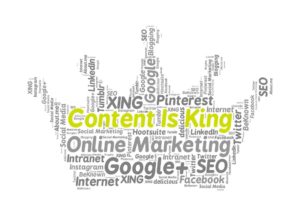 Blogs
The most weighted form of content is blog posts. If you are using already blogs for your existing business then you are well aware of the importance of blogs/articles.
But for those who haven't used blog till today, it's the high time for you to recognise the potential of blogs and leverage it to grow your business.
In blogs, the whole process is quite simple. At first, we select a topic and then present a detailed description of it following the SEO (Search engine optimization) friendly practices. Now the topic might be anything. To find out the topics for the blogs all you have to do is, consider yourself as a customer of what you are dealing into!
you have to follow this basic yet most important strategy. While thinking from a customer's point of view you would realise what arr the doubts & queries that strikes into a buyer's mind while he/she was thinking about your product or service.
Case Studies
Another form of descriptive content. In case studies, we choose various incidents that a business faces in its day-to-day functioning. First, explain the situation then describe how that situation got resolved and what approach you have adopted, these are the steps to follow for preparing case studies.
This type of content is mostly used in big corporates, healthcare, media sectors. As they usually face the same situation more than just one time but want to handle it with more optimal way every next time.
Here case studies become more important as they motivate the reader to think and analyse the situation in their own way and find another solution of the same business problem and increase the overall engagement.
Ebooks
The latest trend in online content marketing diaspora. The primary reason behind the use of ebooks is it's quite easy to carry 20-30 ebooks instead of 3-4 paper books, low cost, visually appealing and many more.
In most of the cases, the owner provides the ebook at FREE! In return of online newsletter subscription or sign-up on their webpage. This is the best way to attract and engage the serious audience.
You don't need to be a pro in writing skills to make an ebook, all you need is find out some relevant content and present in such a way that develops the interest in your target audience and make them get it as early as possible.
Must Read: 
1. Digital Marketing And Advertising: What Is The difference?
2. 7 Steps to a Successful Online Marketing Campaign
Videos
With the rising use of daily data consumption, video content is the most popular way how people are getting information they are interested into.
"After watching a video, 64% customer are more likely to buy a product or service online," the Hubspot study says
Let's assume that you are a customer who needs a specific product or service, what would you do? Most of the people search for the price for the same, read the product reviews and then watch the videos related to it. In this process, video content is the actual decision-maker for them.
Focus more on video content to enrich your online content marketing process to boost engagement.
Infographics
This is a relatively new format of online content marketing. In infographics, the combination of text with visual is presented in such a way that visitor will compelled to read it hence the overall engagement rate automatically boost-up.
Checklist
While doing any task most of the individual and enterprise follow a checklist/ to-do list to measure their step-by-step progress.
If you provide the required checklist that your target audience is looking for, your engagement rate would certainly reach new heights.
Social Media GIF and Memes
The most popular ways to share information or ideas on social media is to use GIF and Memes. As the recent behavioral shifts, people tend to engage more with both the above-mentioned ways with reference to social media.
These are the major online content marketing strategies that you should focus more to boost the engagement rate of visitors. We will back with more informative write-up for you till then keep learning, keep growing. Cheer!