Heard about On-page & Off-page?
Most people are aware of both terms. But hardly anyone knows the technicalities of them.
In today's descriptive write-up we are going to explain how to build on-page and off-page SEO for you. Are you ready? Let's start then.
First thing first, understand what is SEO?
SEO the abbreviation of search engine optimization. Which basically deals with the online presence of your content. For better understanding, the whole process is defined in a simple way here.
You are looking for a particular product or service, let say you typed brown formal shoe with buckle for men in google search. In this case, this sentence is your search query and for Google, this is the keyword. Then the result will appear in google search in various forms like images of red shoe with a price tag, websites with specifications to buy, relevant product ideas, etc.(indicated in below image)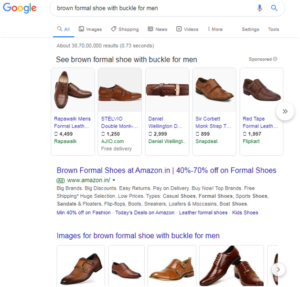 Now understand this process from an SEO viewpoint, those websites who have done proper on-page and off-page SEO and also have authority in market will be listed in the first page of results when you search with the keywords that are targeted by them.
Only SEO is not the deciding factor for a website to get listed on the first page of search results. There are plenty of factors that Google takes into consideration while showing the results but we will focus on the SEO in this article.
So now when you have understood what is the SEO, let's understand its types.
SEO is divided into two parts On-page and Off-page respectively.
On-Page SEO
Here in on-page, we focus on the techniques that are popular in the website's backend related structure and help you get your desired results.
Most people usually know the on-page just as meta tags, description and meta title structuring and reframing. But it is a lot more than that. Major techniques of on-page SEO are title tag, URL, content, site responsiveness & speed, use LSI keywords, image alt tag & optimization, etc.
Title/ Meta Description/ Meta Tag
When a visitor searched using the keyword that you have targeted for your website. Your result would appear in search results but there 3 factors will determine whether the visitor going to open your website or not.
Kindly follow some technicalities while doing the on-page for your website like Title of the page must be within 50-60 character & description of the same should be 120-150 character long. Hence within this much character limit, you have to compel the visitor to click on it and visit your website.
URL
Uniform Resource Locator used as URL, is the key factor if you want to know how to build on-page and off-page SEO. The URL of the page must be crispy & clear and also convey the same message that the page is all about.
In case of keyword brown formal shoe with buckle for men, the URL of the product page should be www.domain.in/brown-formal-shoe-with-buckle-for-men
Content
The key decision factor for any website/blog/webpage is the content. Try to keep to the point and authentic content that will bring huge visitor to your website.
Site Responsiveness & Speed
Another big on-page factor is the site speed and the responsiveness of your website. The ideal load time/the time in which a site has to open is 3-4 seconds also the responsiveness says whether the user is using a mobile/tablet/computer your site has to be equally responsive to all the devices.
Use LSI Keywords
LSI stands for Latent semantic indexing which says cover the relevant keywords for fetching more visitors. For example in case of previously used keyword brown formal shoe with buckle for me the LSI options are brown formal shoe, shoe with buckle, formal buckle shoe, etc
Image Optimization
The images on your website must be in high pixel, well-optimized with the meta tag and description so that website crawler (an automated tool that searches for the websites when someone searches with related keywords) can fetch the image data as well.
Must Read: 
1. The Ultimate Guide To Off-Page SEO Checklist
2. SEO Friendly Blog Posts- 6 Great Tips
Off-Page SEO
Apart from on-page SEO, the off-page also plays a crucial for the overall rank of your webpage in the search result. The major techniques we are going to elaborate here are backlinks, social media reputation, influential marketing.
Backlinks
The soul of off-page is generating quality backlinks. If you are genuinely interested to know how to build on-page and off-page SEO the backlinking can help to a great extent.
In the backlinks building process, you have to get in touch with the reputed individual or brands of your niche and make them ready to be your guest and offer their article on your page.
While searching for your webpage, google gives weight to the backlinks associated with your website and if that too is from websites with high authority rate and domain rate that would be more beneficial for you.
Social Media Reputation
For building off-page SEO, social media plays a vital role. With the increasing interest of masses towards social media leads the organisations to maintain and build their social footprints.
The more you brand yourself on social media higher the chances of getting increased visitors on your websites.
Influential Marketing
This is the new technique of off-page SEO. Here we connect with the reputed individuals associated with various niches and collaborate with them. This way we enter into their audience who also like our product or service as well.
This technique promotes the audience to engage with our website known as influential marketing.
Hence we have emphasized on on-page and off-page SEO and now would like to conclude this article. Looking for your feedback on it. Did you know something that we missed here? Let us know.