You too can drive a lot of traffic to your website by Email Marketing Strategies if you do it right. It is cheap and easy to set up and takes only a few hours before you start. A/B testing is another way to grow your conversion rate. You will be able to reap the benefits if you do the following things –
1. Personalize Your Emails –
Let your subscribers know that you care for them by treating them individually. If you personalize your subject lines, your emails are 26% more likely to be opened.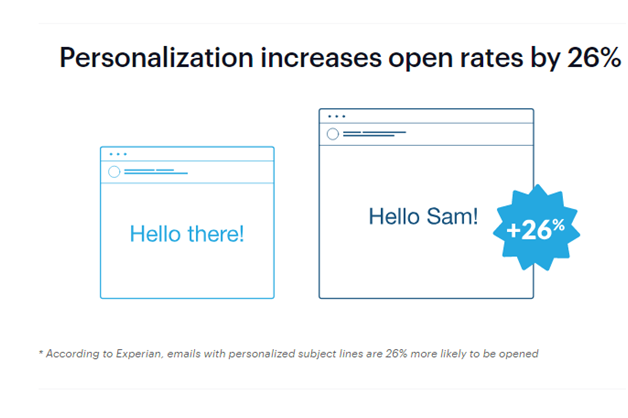 Marketers today understand the importance of personalization but they are not sure how to segment or how to personalize. Neil Patel gives a nice insight into how can you solve this problem. He says you need to ask them the right questions to know what they are looking for and their answers will greatly help you to personalize. You can then tailor your emails to their needs.
This is an example he gave of a wedding specialist, Paperstyle which he gave. They used a simple question in their email template design as given below. Based on the answers they send a different set of emails to the individuals. Isn't that interesting?
Maybe you too can apply such method, build your customer persona, username and location of a person to address them and many other such things to personalize your emails.
What does it mean to send contextual emails to your customers? Creating relevant content & sending it at the right time when it is likely to have a big impact on your subscribers.
But how can you send relevant content to your audience at the right time? You need to segment your email list & automate your emails and this will increase your email revenue by 760%.
Ask your subscribers what content they are interested in & add an extra field in your sign up form for that purpose. Depending on what they choose you can select to send them a welcome series on the topics they choose.
Another way you can personalize your Email Marketing Strategies by sending broadcast messages suitable to their geographical location.
Send them content based on their buyer's journey. You can filter your lists based on whether or not they are your existing customers. Accordingly, you can share content to nurture leads or to educate your leads. You can also ask them if they are already a customer in the sign-up forms and this can help you further.
2. Send Valuable Content –
Build their trust by sending them valuable content. How would you know what is the best email content? Testing a variety of email contents is the best method to determine this. While writing the email content you should remember what your reader wants to read or see regardless of what sources you want to include.
You can always ask for opinions on this, no matter how small or big your company is. You can ask using Facebook questions or by executing Twitter campaigns. The responses will come from the most active users, so you should also inquire your less active users.
You can also focus on writing seasonal content which improves your open rate greatly during that time. As given by Emailmarketing.comm100.com December is the most active email marketing time. You can perhaps find out the most active time for your niche.
It is better to use simple and concise words as people quickly scan their emails. So make sure you don't use complex words or technical jargon in your email content.
Your call-to-action should have action-oriented verbs which move them to act and not suggest them.
Must Read:
1. 10 Client Retention Strategies That Agencies Should Know About
2. 6 Steps For Creating Effective Content Marketing Strategy
3. Subject Lines That Lead To Email Body
Keep your subject lines as brief as possible & need not be a complete sentence. You can test your subject lines like 47% other marketers & optimize email's performance. A subject line is the first section of your email that your reader sees, so don't give false titles but a title that leads them to your email body. Relevancy is a secret weapon for increasing your ROI through emails. You can A/B test your subject line for that purpose as they increase your ROI by 49%. Rather than being trendy, you can be direct & descriptive.
Keep your subject lines short and sweet, generally below 6-7 words so that readers can see a complete and meaningful subject line even on mobile devices. According to the statistics, 77% of emails are opened on mobile.
You can add emojis to your subject line.
Display timeliness through your subject lines that are also relevant.
Do not ever send no-reply sender name
Do tell them what they will find inside. If you are sending any resource, you can mention that in your subject line.  For example, 'Your new eBook inside', 'Your guide awaits', etc.
Many people use different techniques for link building & Email Marketing Strategies is one of them. Though Email Marketing Strategies shows a low rate of response, using the above techniques increase your response rate. Needless to say, this has been the most widely used method. Have you givens marketing automation a thought? Are you looking forward to designing your email templates? We are here to brief you about all you need to know about marketing automation. If you'd like our Graphics team can help you with your email templates. Why not contact us on Messenger?