Is your marketing team spending a great deal of blood and sweat in creating content but comparatively very little promoting it? 
Great content is a sheer waste if your audience doesn't know it exists!
Content distribution is an essential part of your content strategy.
This blog will help you understand the fundamentals of content distribution and the tools you need to distribute the content you create. By the end, you'll be able to build a meaningful content distribution strategy for your brand/business that gets likes & shares by your audience.  
But What Is Content Distribution? 
Content distribution is the process of promoting the content you create through various channels and media formats for your audience. 
Your audience doesn't stick to only one type of channel (sites & apps) just the reason it becomes vital to publish, share, and promote your content across multiple platforms.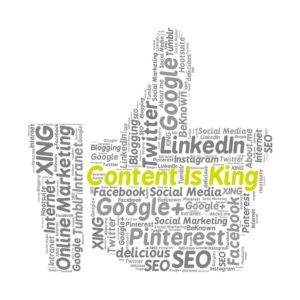 Content Types For Distribution
Your content menu must include the below-mentioned ingredients to drive more traffic and brand awareness. 
Blog posts or articles

Social Media Posts

Infographics

White paper, case studies, eBooks, and Reports

Email newsletter

Podcasts

Videos

To build a powerful content distribution strategy, here's what you have to do. 
Know Your Target Audience
Content distribution is all about your content reaching the right audience and as many as possible. Before you work on curating a content strategy, research your target audience so you know who specifically will be consuming your content. 
What draws the attention of your consumers? What do they like to read? What keeps them engaged? How do they respond to your content? What would they like to see more? These are the questions that should set the tone of your content creation & content distribution strategy. 
You can achieve this by gathering demographic data from various sources. Investigate your audience's age, gender, income level, education, and other related categories. You can easily extract this information from Google Analytics and social media analytics tools.  
Create Versatile Content 
One shoe does not fit all. Well, the same goes for your content. The content that fairs well on Facebook may not work on Twitter. Your audience loves versatile content! 
Sounds time-consuming? The best trick is to convert one type of content into different formats. For example, a blog would also make a fabulous video or a podcast. This way you can create multiple content pieces with the work of one and can get 3X more engagement. 
Must Read: 
1. B2B Social Media Marketing And Branding
2. 5 Digital Content Marketing Ideas For Your Business
Audit Your Distribution Channels Regularly
Auditing your content means evaluating the quality and effectiveness of your content by analysing its strengths, weaknesses, and opportunities. Creating & promoting your content is of little use when you are not analysing your content periodically. Your team should also focus on creating evergreen content – content that stays fresh for a long period. 
Share Content In Niche Groups & Communities
What's a better content distribution strategy than sharing it with an audience or communities that resonate with your vision? Publish your content on platforms where it is likely to thrive, Facebook groups, Instagram groups, LinkedIn, etc. Another tactic that can help you gather more eyeballs is by cultivating relationships with influencers in your niche. This is trending and succeeding! Influencers (also referred to as social media influencers) have a massive following. If they like and post your content (about your brand or business) it is positively like to earn the attention of their followers. 
Another valuable tip on this is to drive traffic via guest posting from sites with a higher domain & page authority. 
Find The Right Time To Be Social
Timing is very important! Your brand/business is social? Good! But the question is when are you the most social? Effective content distribution is knowing when to post is just as crucial to where or what are you posting. Identify when is your audience the most active on which social media platform. For example, scheduling an Instagram post for a Monday morning may not work in favour of your brand but posting on LinkedIn will. Certain days of the week and times of the day give the best engagement. Again, know your audience! 
Encourage Your Readers to Share Your Content
Your readers are your best advertisers! It's fairly common to see our friends and colleagues talking and publicly sharing a brand, product, service they love. USE IT! User-generated content (in the form of sharing or Reposting) builds loyalty and credibility.
That's how you can build a content distribution strategy that can skyrocket your traffic. 
To help you a little more, we are also sharing some popular tools you can use to get it done. 
Content Distribution Tools
Medium

HubSpot

LinkedIn Pulse

AddThis

Outbrain

ClickToTweet

GaggleAmp

AddThis

Mention

PR Newswire
Get your Content Noticed & Reach A Wider Audience
Does your business need a powerful content creation & content distribution strategy that can change the face of your business? 
Write to us today!